Collaroy Plateau Cricket Club are Manly Warringah Cricket Association 4th Grade Premiers for 2015/16. The side were dominant in their Grand Final against Wakehurst on the weekend.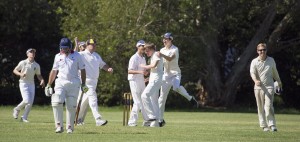 Saturday was bright and sunny as our 4th Grade side and a healthy contingent of supporters turned up at Nolans 5. Captain Darren McDermott won the toss and elected to field. The Plateau bowling was tight and it was slow going for the Wakehurst openers. Lachlan Allomes was the first to strike as he claimed a dubious LBW to have Wakehurst at 1/15. They ticked the runs over from there and were starting to build their innings nicely at 1/33. The Wakehurst number 3 was starting to look dangerous, despite his loose technique, when Pat Koch put a stop to him by removing his off stump. Wakehurst started to recover again, bringing their score along to 2/46. It was at this point that we saw the introduction of James Bourcier from the car park end. He immediately turned the game on it's head by bowling the remaining Wakehurst opener. From here, he and Brad Baber cleaned up the remaining Wakehurst wickets for only 12 more runs. That's 8/12 in total. James took a remarkable 4/5 off 5.2 while Brad claimed 3/18 off 14. This period of the match brought the Plateau crowd to their feet and sent the commentary team into hysterics.
It was all, well and truly, smooth sailing from here for our 4th Grade Premiers. The opening combination of Bourcier and Ryan Blackshaw quickly took the score to 32 before James was bowled for 22 while trying to pull a ball that was a bit too full. Ryan was then run out for 15 with the score at 40, but the game was well and truly under control. This brought Pat Koch to the crease with Lachlan Murphie. These two cruised past the Wakehurst total for a first innings lead before Pat started to tee off against the demoralised Wakehurst bowlers. There was even a reverse sweep in there, which was highly appreciated by the crowd. Day 1 concluded with Collaroy Plateau at about 2/90 – 32 runs ahead of Wakehurst.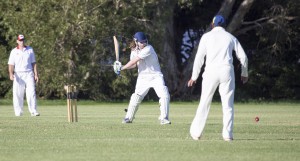 Day 2 got underway in amongst a fair bit of bad weather. Lachlan Murphie was dismissed early for 15, but around the falling wickets Pat Koch continued to hit runs. He brought up his 50 and then was run out for 62, with the Plateau at 7/138. We were bowled out for 145, a comfortable 80 runs ahead. Wakehurst went back into bat and managed some quick runs, but rain confirmed the Plateau victory with Wakehurst at 3/53 off 10.2 overs. Brad Baber managed to claim all 3 of those wickets.
A big congratulations to the boys – quite are few are celebrating a 2nd consecutive premiership after being involved in the Development Team triumph last year.
We're just organising some photos and also some audio highlights, we'll get them uploaded shortly so check back soon!
Match scorecard here
CPCC 4th Grade 2015/16 Premiers
Craig Allomes
Lachlan Allomes
Brad Baber
Ben Blackshaw
Ryan Blackshaw
James Bourcier
Oscar Brunton
Max Dudfield
Sam Filmer-Ramsay
Pat Koch
Darren McDermott (c)
Lachlan Murphie
Kesh Ratnavibushena